Impact Of GHS On Chemical Classification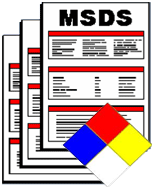 The Globally Harmonized Hazard Communication System (GHS) is in the process of being adopted by the US. Compliance with the new provisions will impact content and format of MSDS'es. Do you understand the changes and how they may impact your business?




What is the GHS?
The GHS, or Globally Harmonized Hazard Communication System, has been developed to provide a single, harmonized system to classify chemicals, labels and (M)SDS's worldwide (Note: the United States participated in developing the GHS).
It is designed to streamline the hazard assessment, labeling, and hazard communication requirements within (and between) countries that adopt it. This is achieved by promoting common, consistent criteria for classifying chemicals according to their health, physical and environmental hazards.
Timelines
In 2009, OSHA released its proposal to modify the current Hazard Communication Standard (HCS) and to align it with the United Nations Globally Harmonized System of Classification and Labeling of Chemicals (GHS).
While in Canada, regulatory proposals to update the WHMIS standards are expected in 2010, in the US, there is no uniform implementation date for GHS due to the complex changes and alignment processes that are needed.
The regulatory agencies OSHA, EPA, SPSC, and DOT are not harmonized on their definitions of hazards and labeling and classification requirements for hazardous materials. So in order to minimize overlap or conflicting requirements, GHS will be adopted inside the framework of existing hazard communication regulatory schemes. This means that these regulatory agencies are in the process of evolving regulatory requirements towards the GHS system.
This does not mean that there are no target dates defined i.e., DOT is currently working towards having their regulations migrated to GHS by 2012, while OSHA is targeting a 2–3 year implementation period starting in 2011.
Furthermore it is planned that companies would be allowed to issue MSDSs and labels for the U.S. market according to the changed rule based on GHS classification no earlier than July 2011. Existing MSDSs and labels would have to be updated in accordance with the new requirements no later than July 2014.
MSDS Format
GHS will have an impact on companies that must manage SDS and related chemical information for onsite chemical inventories. The new approach will require updates and revisions in both content and format of current (material) safety data sheets. It affects:
Classification of the hazards of chemicals according to the GHS criteria
Communication of the hazards and information using safety data sheets and labels
GHS Hazard Classification
| Health and Environmental | Physical |
| --- | --- |
| Acute toxicity | Explosives |
| Skin corrosion | Flammable gases |
| Skin irritation | Flammable aerosols |
| Eye damage/eye irritation | Oxidizing gases |
| Respiratory or skin sensitation | Gases under pressure |
| Germ cell mutagenicity | Flammable liquids |
| Carcinogenicity | Flammable solids |
| Reproductive toxicity | Self-reactive substances and mixtures |
| Specific target organ toxicity | Pyrophoric liquids |
| Aspiration toxicity | Pyrophoric solids |
| Hazardous to the aquatic environment | Self-heating substances and mixtures |
| | Substances and mixtures which in contact with water emit flammable gases |
| | Oxidizing liquids |
| | Oxidizing solids |
| | Organic peroxides |
| | Corrosives to metals |
| | |
MSDS, soon to be simply known as safety data sheets (SDS), will extensively change after adoption of GHS, as all products will need to be classified for health, environmental, and physical hazards based on GHS criteria. Additionally, the flexibility of format will be removed. There may be a minimum of a 3-year window to accomplish this.
GHS will require a standardized 16-part format and will add some additional required content for Safety Data Sheets (SDS) and changes the way that some information is currently reported on MSDS's. In other words substances need to be reclassified based on GHS criteria.


GHS 16-Part (M)SDS Format
1. Identification
2. Hazard(s) identification

3. Composition/ information on ingredients

4. First-aid measures

5. Fire-fighting measures

6. Accidental release measures

7. Handling and storage

8. Exposure control/ personal protection

9. Physical and chemical properties

10. Stability and reactivity

11. Toxicological information

12. Ecological information

13. Disposal considerations

14. Transport information

15. Regulatory information

16. Other information
For example, the GHS calls for including the recommended use of the chemical and restrictions on its use. GHS classifications of the substance/mixture and any regional information must be included. GHS labeling elements must be reproduced, either graphically or in text.
The criteria for MSDS component disclosure also differs between the two systems. The level of hazardous components can be given as ranges or concentrations under GHS, whereas the HCS specifies percentages.
For the first time, sheets will be required to list the CAS number of the hazardous components. Hazardous impurities must also be disclosed.
Under the current HCS, MSDS's are only updated when changes are made to the material or new hazards are discovered. The GHS recommends setting a specific time period (3-5 years) for review of the information, something that Canada already requires under WHMIS.