NFPA 13 2019 To 2016 Cross Reference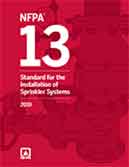 NFPA 13 2019 provided a 'roadmap' included in the back of the standard for 2019 section cross references for many of the sections found in the 2016 Edition. While this 'roadmap' table is useful, it is not a complete reference by any means and as a result, users quite often are left wondering 'where it all went'. We decided to offer a search engine that simplifies the search process.
NFPA 13 2019, the new edition of this standard for the installation of sprinkler systems, was reformatted and as a result, its content was summarized and subdivided into new chapters, as well as individual section numbers, tables, and figures received a new numbering scheme. Furthermore language for the standard's provisions was merged with language of related provisions, making it difficult at times to 'word search' (key word search) for the new section numbers in the 2019 edition.
The search engine focuses on locating the new storage sprinkler protection sections for NFPA 13. It can be accessed directly from KnA web's top menu under 'For Our Clients'.

This tool is provided free of charge, usage must be in compliance with 'Terms of Use' policy.