Underwriters Laboratories Fire Test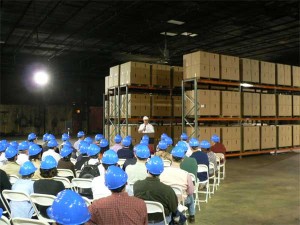 NFPA Conference & Expo attendees got a tour of Underwriters Laboratories in Northbrook, Illinois. During the tour, UL conducted a live fire test in its large-scale fire test and research facility. This particular test involved three rows of rack storage loaded with palettes and cardboard boxes full of Group A plastic cups. A large HVLS Fan was in operation during this fire test.
Led by NFPA marketing specialist Victor Bishop, seventy Conference attendees boarded buses bound for the campus of Underwriters Laboratories.
An hours drive north of the city, the UL campus, at first glance, looked like a cluster of industrial and commercial buildings surrounded by green fields and tree studded rises.
Greeted by a dozen or so employees clad in UL shirts, members of the tour were each given hard hats, safety glasses and name tags. The group was then led downstairs into what looked like a dirty warehouse complete with three rows of rack storage loaded with pallets of cardboard boxes. A giant fan slowly turned overhead creating a steady breeze and the air in the room had an acrid smell like burnt plastic.
This was UL's large-scale fire testing and research facility, a state of the art testing lab with some very special features. The 100 x 100 foot ceiling rests on four huge hydraulic lifts and can be lowered and raised (as low as six feet and as high as 50). Engineers can attach and test a variety of sprinkler and venting systems under a variety of real fire conditions. In an adjoining control room, testers can monitor fires from a several angles as well as record data from sensors place through the ceiling and sprinkler array.
The climax of the UL tour was the live fire test in the large-scale test facility. While watching from a glass walled conference room overlooking the test floor, UL employees clad in firefighter gear lit a small fire on the middle of the three storage racks. The video shows what happened next. It has been edited down from 10 minutes due largely to the smoke which almost completely obscured the fire.
(Article reproduced with permission of NFPA, video courtesy of NFPA)