K&A Recognized With Fire Prevention Educator of The Year Award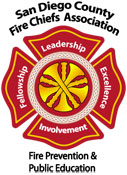 On July, 26, 2011, Elley Klausbruckner, Principal and Fire and Life Safety Code Consultant at Klausbruckner & Associates, was awarded the Fire Prevention Educator of the Year Award by the San Diego County Fire Chiefs Association, Fire Prevention Officers Section. This award is presented to individuals in recognition of their exceptional efforts in presenting fire prevention and safety education to fire departments and residents in Southern California.
The award was presented at a ceremony held at the San Diego Burn Institute.
Over the years, Elley Klausbruckner has taught classes and seminars in the areas of Hazardous Materials [California Fire Code Chapter 27], Flammable and Combustible Liquids, Containers and Portable Tanks [California Fire Code Chapter 34], High-Piled Storage [California Fire Code Chapter 24], and Sprinkler Protection of High Piled Storage [NFPA 13].